Dreams for Sail ™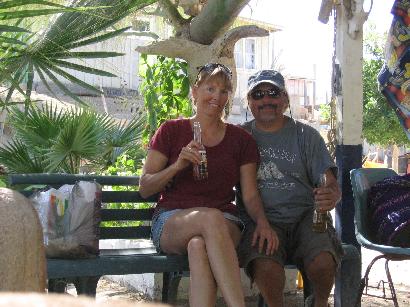 At last a cold Beer!
At last we get to hang out for awhile. As it turned out we ended up staying in Turtle Bay for 3 days and had a great time and met some great people. We met Don and Lynn from Canada and they sailed down on a beautiful boat "Prairie Seashell" they spent 12 years building. We ended up seeing them again in La Paz. While we were walking around we met Jack and Linda of "Wyntersea" and David and Linda of "Toketie" all of whom sailed down from Canada. Later, we ended up sailing with these two gracious couples and they became good friends to us. But that's another story. After having fun and rebuilding our courage we decided to sail on. We left early on the 16th headed for Asuncion which was only about 60 miles away. We had a good day and made it just before dark. The next couple of days we did day sails to the next anchorages, Hipolito and Abreojos, and both were very rough, windy anchorages and had lots of fishing pots we had to dodge. We left Abreojos on the 19th and headed for Santa Maria 150 miles away. That meant another overnighter, something neither of us were looking forward to. When we pulled up the anchor at Abreojos I noticed the cotter ring had come out of the pin holding the anchor. My heart stopped. I pulled the anchor up slowly, holding my breath and saved it. Thank god! That would have been such a drag to loose our brand new, and I might add expensive, anchor. Our night sail turned out to be pretty calm which was a relief. We made it to Santa Maria the next day where we ran into "Toketie" who had had some transmission trouble and was trying to make-shift a cooling system so they could run their engine. We met Richard and Margaret from "Meraki" and both of us headed the next day into Mag Bay to Man of War anchorage. We spent a couple of days in this neat little village having lobster and fresh shrimp dinners with "Meraki". The weather window was good and it was time to head to Cabo, another overnighter!


Man of War Anchorage and Village
These guys were the dingy watchers

wow, they really did watch the dingy

Meraki and Hanali at anchorage

Laura hiked above the village

The port captain didn't drive much

Anchor shot

Man of war cove

Shot of the village below

Laura hiked across the top of the village to see th Pacific

Oh yea, Lobster tonight!